February 15th, 2011 by Conor
Luke Mitrani made nice work of the pipe at the last stop of the Dew Tour. He took first place with the run of his life. Here he is alongside his brother and Kevin Pierce. Note Danny is the Bomb sticker between the bindings! Nice work Luke, Crushing it!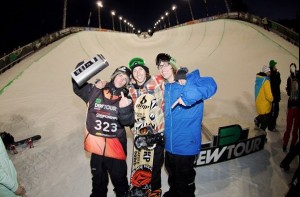 Left to right: Luke Mitrani, Jack Mitrani, Kevin Pierce.