January 20th, 2011 by Conor
My roomate and good friend Will Mayo is heading up the Tahoe side of sticker making for the Danny is the Bomb efforts on the far West Coat. He just started making them a little earlier today to get them done in time for tomorrows ride at Northstar. He sent me a proof because I asked to see them just to make sure things were up to par. I wouldn't have normally asked for a die cut sticker proof except that Will was using Danny's sticker plotter and equipment. Danny has been teaching Will the ropes on how to make stickers.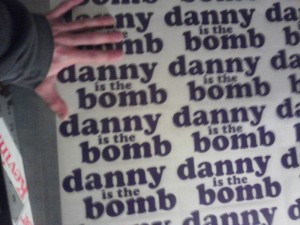 The proof that I saw totally shocked me. Right off the bat my eyes were drawn to the red text on the metal ruler that Danny owns. I recognize the sticker very well. It says "I Ride For Kevin," which was an advertising campaign that Burton headed up a year ago when one of their stars Kevin Pierce got hurt. How ironic that Will sends me a photo of a proof for Dannys awareness campaign when another campaign was on the ruler he is making the stickers with…. weird to say the least.
I noticed another irony when I originally watched Paul's video of Danny laughing. In a few of the more obvious scenes Danny is wearing the I Ride For Kevin tee shirt.
I also have two of those "I Ride For Kevin" tee shirts and wear them from time to time. I wish that all those stickers and tee shirts made Danny and I buy helmets. There is a good chance that the helmet would have changed the outcome of this incident significantly. A crash like Danny took could have happened to either of us or any of our friends- that is still a shocker to me. The maneuver that took Danny out was simple, routine, and could have been done by any snowboarder having fun.
Do yourself a favor. If you are going to wear the tee shirt or the sticker to represent your love for Danny and to recognize this tragic event. Go one step further and get a helmet and rock that too.
~Conor