January 19th, 2011 by Conor
SHRED 4 DANNY T.
Im pretty sure it was winter 08′-09′, or maybe 07'…Too many years in california will take its toll on your memory. Anyways, one of those winters was the first time i met up with Daniel son and his brother Conor.
So i had been down in mammoth shredding with a bunch of dudes from Burton, Anon, Analog, and some SoCal shop guys. I had just met Sisky who at the time was working for anon optics doing marketing out of Irvine. If you know Sisky you know he's so stoked on life and guaranteed to put a smile on your face. We rode all weekend and chatted, i explained how mammoths ok, but tahoe's wheres its at and that i lived there. He got more stoked because he was gonna be in Northlake Tahoe that week for some demos and he now had a guide, me. Sisky then kept bringing up over the weekend how i HAD to link up with this kid who just moved to Tahoe and kills it, i just HAD to link up with him he kept saying and saying. Being i just met Sisky and already could tell he wouldn't set me up with some boring doosh i said i would make the effort to meet up and shred with this "kid". Now for some reason i had it in my mind that i was gonna take some grom ripper for some park runs and show him a few things. I don't think i've ever told Danny this, but before i met him and the plan to shred with him, was in my mind to be with some lil 10 year old hahahhaha….
So i was asked to meet back up with all the Burton dudes at Alpine Meadows in Tahoe for a demo and shred it up and stoke people out. The plan was to meet this "kid" Sisky had been ranting about. To my surprise this kid was an adult, slayed the park, had his own videographer(his bro),was super motivated, and to this day, Danny Toumarkine is one of my best friends. That very first day we meshed really well. I had just gotten the first generation of gopro's and was amping on it, and Danny and his brother had a cam and were allllll about filming everything to start their new webisode venture, Shreddy Times. Perfect, you're down to film, I'm down to film, lets do the damn thing. Since that first day we've filmed a bunchhhhh of viral online videos, have traveled together, done photo shoots together and have become really good friends. I love the "kid".
The snowboard world is crazy, you know so many people and ride with tons of different people with different riding styles. Some people just kind of fade and you run into them time to time but you're just not on the same page anymore. Danny's all over the place, as am i, but i know that if i havent seen Danny for a while and were able to link up i can go lap the park at northstar, or call him up cause i have a feature we should go hit in the street and hes down. Were on the same page, mostly ,haha. I see so much laziness in the world, and im guilty for sure. People talk a lot about doing this and that blah blah blah, yea right sure you are homie. But Danny's always stood out for the reason that he comes through with his shit, bottom line. He said he was going to the Cholula triple air a few years ago to win it, and he did. The effort he's put into Shreddy Times has clearly paid off and blew up more than any of us expected. He started his own facemask company, Tubular…Thats what i'm talking about, Danny doesn't just talk bullshit, he makes it happen….
Stoked on you homie, i dont think i need to say anything about how fucked what happened is. I just wanna say i'm lucky to have Danny as a friend and I know he will make it through this and come out stronger and more focused on his ventures once this dark time is finally over. Wish i wasn't so broke and far away from you right now dawg, i wanna be there for you so bad. You're always in my thoughts Danny, and everyone is sending their positive thoughts towards you, love ya dawg. SHRED 4 DANNY T.
-silver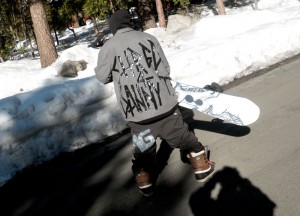 ---
I put this in because I think this is an awesome edit that Silver and Danny filmed on Danny's birthday last year (May 7th) Although it ends kinda rough you can get an idea of how much fun they have riding together.
~Conor