January 15th, 2011 by Conor
Here's Magic with his sign..Hard to tell from the pic, but one of the magnets holding it up is a picture of Danny with Magic as a pup. Thinking of you guys & sending out good vibes!
~Megan Moulton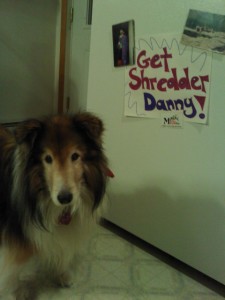 For those of you that don't know Magic is our dads dog. We grew up with Magic. He is a 16.5 year old Shetland Sheepdog (Shelty), who is healthy as can be. Magic can't wait for Danny to get home!